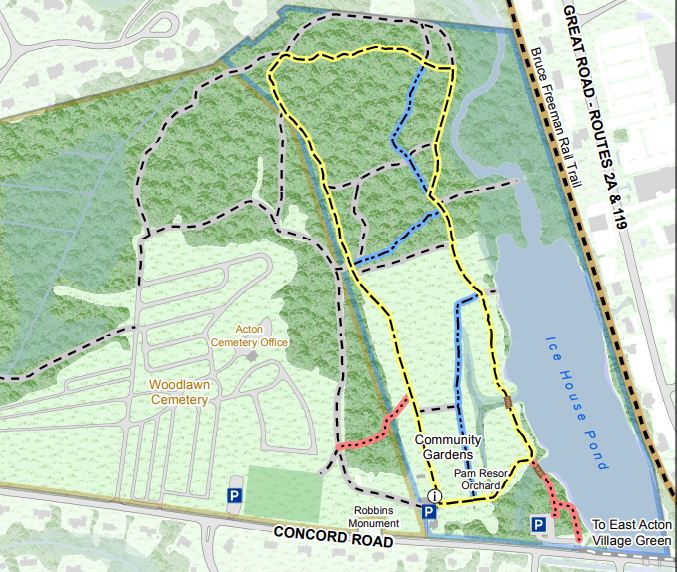 Location: Southeast of Acton Center, on Concord Road between Ice House Pond and Woodlawn Cemetery.
Loop Trail:  1.1 miles
Acreage:  32.5 acres
Terrain/Trail Conditions: Largely level from Concord Road, rutted, dirt road from parking area along community gardens. Flat and mown grass through meadow. Woodland trails mostly pine needles, some roots.

Entrances:
Southeast of Acton Center at 116 Concord Road behind little grey farmhouse. Only about 4-5 parking spots behind house and in front of barn. Can drive down dirt road and park on left adjacent to field and garden plots.
Ice House Pond paved parking lot with marked lines 120 Concord Road adjacent to Bruce Freeman Rail Trail.
---
Description:
Morrison Farm was purchased by the Town of Acton in 1997. The property consists of a 1930's farmhouse and barn, which are both closed to the public. The property was formerly owned by Betty Morrison, who gave horseback riding lessons for several decades. It now supports a healthy community garden, a new orchard, meadows that are a haven to many wildlife species and a fantastic community of birds.  The Morrison Farm property abuts Acton's Woodlawn Cemetery. The trails conjoin back in the forest and along the old stone walls. The Acton Land Stewards take care of the trails. The Acton Cemetery Department manages the Community Gardens programs.
East Acton Village History
The area known as East Acton is one of five Acton villages (Acton Center, West Acton, North Acton, and South Acton). It generally extends along Great Road from the Concord town line to the intersection with Main Street (Route 27.) The East Acton Village Green existed at the intersection of Concord Road and Great Road. Prior to European contact around 1615, the Massachusett Indians were present around present day Acton. Artifacts indicating native settlements have been found in South Acton and around Nagog Pond. It is believed that there was native fishing and hunting around Nashoba Brook along a major Indian trail that later became Great Road (Route 2A).
Most of Acton, including all of East Acton and East Acton Village, was originally part of Concord before Acton became a town in 1735. Known as Concord Village, it was provided to Concord farmers in 1651, as the "New Grant", for additional sheep and cattle grazing. Concord, at the time, was the first major inland settlement away from the coast. The earliest settlement of East Acton occurred in 1669, when Captain Thomas Wheeler was granted a lease of 260 acres west of Nashoba Brook. The agreement stated that he would improve the land, build a house, and fence 30 acres of cattle pasture. His family later sold this land to the Robbins family.
The Robbins family played a prominent role in both the founding of Acton and the American Revolution. Joseph Robbins, a captain in the militia who lived on Concord Road, received the first alarm in Acton that "the Regulars are coming" on April 19, 1775.
The earliest industrial activity was John Barker's iron forge, relocated from South Acton to East Acton in 1728. In 1788, Barker sold 12 acres of his land to Captain Joseph Robbins, who along with his son and grandson, operated a sawmill on the site of Barker's Forge In 1840, Daniel Wetherbee purchased 11 acres from the Robbins family to run a gristmill at the present location of 94 Great Road (Bursaw Oil). The Wetherbee family, which also owned a tavern and general store in the area, played a key role in the expansion of East Acton, advocating for bringing railroad service to the area. In 1881, Daniel purchased the saw mill from Robbins, and the area became known as Wetherbee's Mills.
Agriculture and Early Industry
In the late 1700s and early 1800s, the expansion of farming, fruit orchards, and grazing area continued. Inns, retailers, and taverns developed in East Acton to support the new stagecoach service on Great Road between Boston and Groton.
In 1871, following the arrival of the Framingham and Lowell railroad along with the Nashua, Acton, and Boston railroad a few years later, East Acton experienced a growth spurt. This growth continued with the opening of the Concord prison a half mile away.
By the late nineteenth century, wholesale and retail dealers sold and shipped a variety items such as flour, grain, various kinds of meal, boots and shoes, crockery, farming tools, plaster, etc. While the local production of corn and grain declined, East Acton farmers shipped milk and apples, along with cucumbers, asparagus, strawberries and other produce. Henry Smith of 40 Brook Street built large greenhouses (each one heated by a wood stove) to grow winter vegetables for the Boston market, shipped out on the F&L railroad.
Greenhouses at 40 Brook St. Around 1910
As East Acton continued to grow, residents felt it was time for them to have their own post office and school. When it came time to name the new post office, the residents initially chose the name Elmwood, to avoid confusion with the other 3 Acton post offices. When it was discovered that another town in Massachusetts had that name, it was changed to Ellsworth. For two years starting in 1873 the area was known as Ellsworth Village until confusion with Ellsworth Maine forced another change to East Acton.
Age of the Automobile
Some of the businesses and businessmen located in East Acton in 1902 included a blacksmith, cattle dealer, an express company, fish seller, ice dealer (hence the name, "Ice House Pond"), two Justices of the Peace, a realtor, market gardeners, milk dealers, a painter, and a wheelwright.
With the rise of automotive travel and the closing of railroad passenger service in the 1920's, East Acton's commerce slowed, hastened by the rerouting of Route 2 in 1950, with Great Road now named Route 2A/119. The post office closed in 1910, following consolidation of the Acton post offices, and so did the schoolhouse.
Following the construction of Route 2 in 1950, East Acton became largely residential with retail and commercial along 2A. With the building of Route 128, also in the 1950's, Acton's housing and population expanded as the Greater Boston suburbanization expanded westward.
Captain Robbins Homestead:
Adjacent to Morrison Farm, Captain Joseph Robbins' house foundation is commemorated with a plaque and fence around the cellar hole. On the evening on April 18, 1775 the British sent hundreds of soldiers from Boston to Concord to capture ammunition stored there. Paul Revere rode ahead to alarm all the towns and get them ready to hide the munitions. Additional riders were Dr. Samuel Prescott, and William Dawes. Revere and Dawes were captured, but Prescott galloped to Acton and at 3AM alarmed Captain Joseph Robbins, one of Acton's militia leaders. Robbins and his 13 year old son took off riding to warn Captain Isaac Davis of the Acton Minutemen, and Francis Faulkner and Deacon Hunt of Acton's other militia unit. The troops marched to Concord for the Battle at the Old North Bridge. Thus began the first day of the American Revolutionary War. Issac Davis was among the first to be killed. The fighting continued that day with the Battle of Lexington.
It now supports a healthy community garden, a new orchard, meadows that are a haven to many wildlife species and a fantastic community of birds. 
The property abuts Acton's Woodlawn Cemetery.