Assabet River Trail Bridge Construction Day 3
May 21, 2017 @ 9:30 AM

-

3:00 PM
Come join us for the construction of a new trail bridge on the Assabet River trail.
The 20′ bridge spans a small creek.
Start time is 9:30 Items to accomplish.
Finish the railings on the bridge
Clear far trail of small trees and brush
Dig and level sill and stringers for attached boardwalk
Install hangers and stringers on boardwalk to sill
Deck boardwalk (ramp) to the bridge.
Level boardwalk to the trail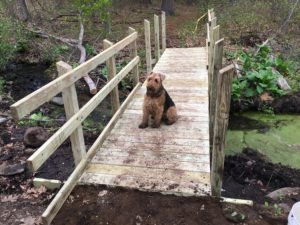 Let me know if you can come.
Bring Water, bug repellent and work gloves, a battery powered hand drill if you have one. (long pants only please)